According to a recent NCERT survey, 81% of students attributed studies, exams and results as a major source of their anxiety. As per India Today 200 students got sick after consuming a mid-day meal at Bihar school. As per the Economic Times, in December 2022, schools were instructed to increase preparedness for rising Covid-19. 
The Covid-19 pandemic has made the mental health crisis worse amongst students as they were forced to isolate themselves at home for over two years.
Yes! These are scary stats, but what do these facts tell us? It tells us the increasing need for healthcare workers in every school in India. Even before the pandemic struck however, there were clear signs of the need for healthcare workers at school.
Recognizing their importance, the government has launched various programmes over the decades to increase the number of healthcare workers in our schools. The latest one, "School Health Program" under Ayushman Bharat, strengthens measures for health promotion and prevention of diseases. This means that even our government recognises the importance of a healthcare worker within the school premises.
But do these workers only provide emergency aid? That's what most of us think! Well their job description goes way beyond that. Let's try and understand via this blog, what kind of 360* services a healthcare worker can provide to students and staff.
First Aid & Emergencies
Schools and colleges bring a large number of staff and students together. It is only natural that injuries will occur in such a large congregation of people, especially amongst students as they engage in various sports.
Thus, a healthcare worker becomes very important to nurse these injuries and provide first aid. Covid-19 also showed the deadly effects of contagions on our society. These types of infectious diseases are primarily stopped via prevention rather than cure.
Therefore, in the last two years there is a growing demand for healthcare workers to be present in educational institutions to spread awareness about preventive measures.
Care For Special Needs & Chronically ill Students
The right to education is enshrined in our constitution. It mandates the government of the day under law to provide education to every child no matter the challenges. Thus, schools are legally and morally compelled to provide uninterrupted education to children with chronic diseases and special needs.
Schools that educate special needs students must have a healthcare worker present on their premises to render certain services to such students.  In a similar manner, healthcare workers also provide care to normal children suffering from chronic diseases such as asthma, diabetes and seizures. It is important for these children to continue their studies without any impediments due to their ailments.
Educating Students On Sensitive Yet Important Topics
Education goes well beyond the 4 walls of the class today. Making the youth of tomorrow aware of sensitive health information such as menstrual care, reproductive hygiene, contraception methods, genetic diseases such as cancer or thalassemia, etc has become extremely important.
The healthcare workers conduct such awareness sessions from time to time via interactive sessions. Regular Health Awareness Camps, a dental checkup, a blood test and maybe a nutrition camp sounds like the cornerstones of a progressive school.
Such camps are arranged by healthcare workers from time to time to check on the well being of the students and staff.
Apart from these points, parents today are considering a safe and secure environment for their children as the foremost criteria. The presence of a permanent healthcare worker can be the differentiator between your school and the others.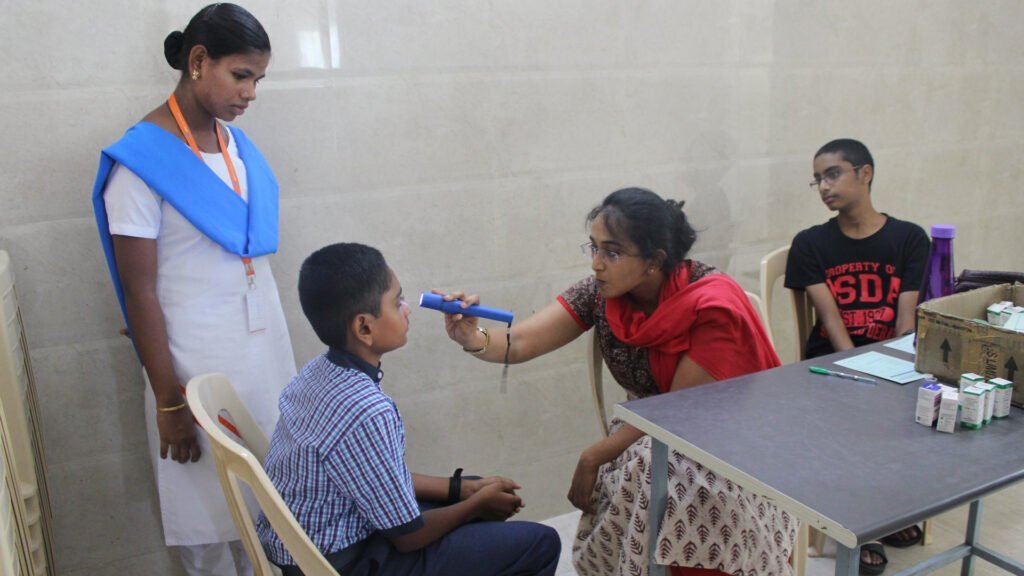 Where Does Jobizo Fit In?
As this blog demonstrates, healthcare professionals can play a major role in a number of key areas for the healthy development of students on your campus. But the burning question remains- How to find such capable,qualified & responsible healthcare workers for students who perform all the above mentioned duties diligently? 
Well that is where JOBIZO comes into play. Jobizo can assist you in hiring medical professionals with its advanced artificial intelligence technology that identifies the best healthcare professionals suited for your school.
Jobizo's healthcare focused HR-tech platform automatically verifies medical workers and gives you the flexibility to hire them on a flexible or permanent basis.
The technology automatically detects any irregularities in the credentials or documents provided by the candidates. Thus, the system ensures that we only add verified and competent professionals to our pool of medical practitioners.
By using Jobizo, you can rest assured that the future of your students will be in the safe hands of verified and experienced healthcare professionals. Many renowned schools are already using Jobizo's technology to hire the best and trusted medical professionals while saving time, money and effort. 
So don't keep waiting for the perfect employee to enter your school with their resume. Sign up as an employer today on the Jobizo's platform and ensure a bright and healthy future for all your students!