India's healthcare industry has been growing aggressively despite Covid-19 posing serious challenges. A new report suggests that India is going big on the global map as the healthcare sector looks promising and is expected to generate $774 billion in revenue by 2030.
Even though the growth outlook looks fairly optimistic, the sector has long struggled due to workforce shortages, which badly impact the efficient healthcare delivery system.
As of 2021, the tally of the healthcare workforce in India stands at 4.7 million people. However, to ensure the smooth functioning of the healthcare industry, India needs at least 2 million doctors and 6 million nurses by 2030.
As one of the most significant contributors to the Indian economy, the healthcare industry needs an effective mechanism to address the workforce crisis.
Let's delve deeper into the challenges that Indian skilled healthcare professionals face.
Limited career opportunities
High burnout
Poor work-life balance
Low Pay/Wage discrimination
Brain drain of skilled professionals
Deteriorating physical and mental health
High-pressure & Hazardous work environment
No cross-training availability
Lack of safety equipment
As per a report by fierce healthcare, more than 34% of nurses are likely to leave their jobs by the end of 2022 and 44% already cited burnout due to the high-stress environment. These are desperate times where we need to focus on two main areas. One is to bridge the growing workforce gap and second to bring such registered nurses back into the workforce. 
Why does India need to address the growing healthcare staffing crisis?
India's healthcare economy has grown manifolds in the past few years despite Covid-19 disrupting the momentum. Yet, the critical shortage of skilled healthcare professionals poses unprecedented challenges. Let's understand why strengthening the workforce is a necessity.
To Be Future-Ready For Any Health Emergency
Hospitals are usually busy and often overwhelmed, especially during a healthcare emergency. Therefore, for the smooth functioning of the healthcare system during testing times, it is necessary to build a future-ready workforce to better deal with a crisis in the foreseeable future.
To Deliver Top-Notch Patient Care
The main aim of healthcare is to provide adequate care and quality treatment to the patients. However, there is no substitute for skilled professionals, and due to the manpower crunch, healthcare facilities across India have a tough time providing quality care to patients.
To Tackle The Brain Drain Of Talent
Every year, healthcare workers in huge numbers quit their jobs or find better job opportunities in a foreign country. Additionally, several factors attract high-skilled professionals, such as a better work environment, career advancement opportunities, and fair compensation. To tackle the brain drain of talent, India needs to frame policies that empower the skilled workforce and offer them sufficient career opportunities at home.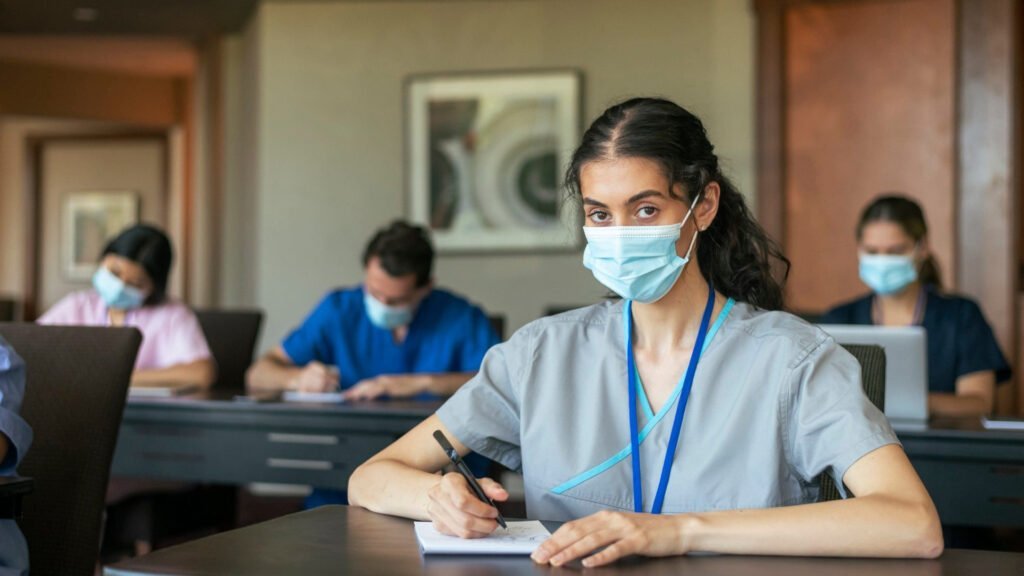 To Maintain The Growth Trajectory
India's healthcare business is growing by leaps and bounds. However, to maintain the growth trajectory, the industry needs to step up and fulfill the existing workforce requirements and continue to add more to boost the sector's profitability.
Jobizo: An Answer To India's Workforce Crisis
India has 612 medical colleges, 322 government, and 290 private colleges. Every year, several medical students graduate, yet the country falls short in the required number of skilled professionals to attain the defined goals of the healthcare system.
And that's where Jobizo, India's First Digitised Flexible Healthcare Recruitment Platform, comes to safeguard the interest of India's healthcare sector.
A team of talented industry experts understood India's rampant workforce crisis and what challenges healthcare institutions and professionals face. Hence, Jobizo evolved, a revolutionary idea helping the nation become self-sufficient in terms of a skilled workforce.
A robust response to India's staffing crisis, Jobizo is a platform where healthcare institutions (sign up on web app) and skilled professionals (download the app from Play Store/App Store) can find each other in a hassle-free manner.
Jobizo is a well-thought platform where healthcare employers can access the vast talent pool of registered and verified professionals for their locum hiring needs, and professionals receive competitive compensation and ample career advancement opportunities.
If you are a healthcare institution looking for talented and qualified on-demand workers, then Jobizo is the answer you have long been waiting for.
Connect with us today, and sail smoothly through this crisis.