India's healthcare is one of the fastest growing sectors, multiplying revenues and creating new employment opportunities while adding more to the economy with each passing day.
India's healthcare industry has been growing at a CAGR of 22% since 2016 and is expected to reach USD 372 Billion by 2022. Despite this stupendous growth horizon, India's healthcare industry has been battling numerous challenges. So let's delve deeper and examine the challenges India's healthcare currently faces.
Addressing The Challenges Of India's Healthcare System
Shortage Of Trained Manpower
The healthcare sector in India is in dire need of a trained workforce for an efficient patient care delivery system. As India is currently grappling with an acute shortage of skilled manpower, the country needs two million doctors and six million nurses by 2030.
Crumbling Rural Healthcare
From under-staffed facilities, poor quality services, and inadequate infrastructure to shortage of medicines and quality equipment, problems in rural India never cease to exist. However, healthcare in rural India is facing a much bigger problem due to many concerns, primarily the lack of skilled workers to serve rural communities.
Brain Drain Of Skilled Professionals
Brain drain is a major cause of concern for the healthcare industry as it is depleting the workforce in the country. However, due to limited job opportunities, poor remuneration, and working conditions, healthcare professionals migrate to other countries to build successful careers, leaving a major gap in the healthcare system.
High Patient Load & Burnout
Healthcare institutions often witness a surge in the number of patients anytime, which becomes even more hectic during a crisis.
The lack of a sufficient workforce can be a bigger problem in such a complex environment—the responsibility to keep the healthcare system up and running lies with the professionals.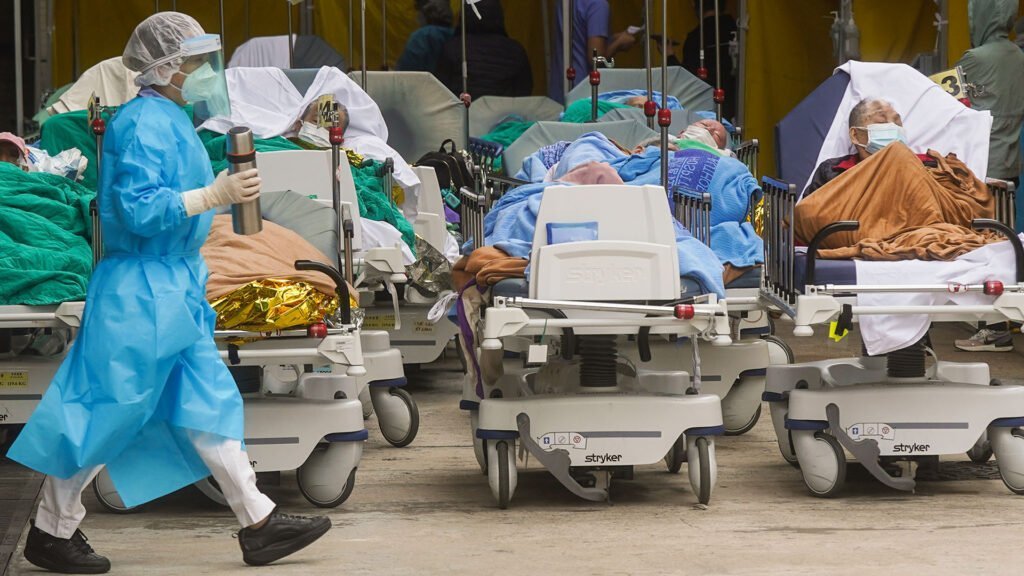 Additionally, inadequate manpower during a crisis can lead to burnout and cause excessive stress among healthcare employees. These challenges have been making the Indian healthcare system weak and crumbling. 
Despite many efforts by the government to address these, the recent pandemic showed evident gaps in the system. On one hand where the healthcare institutions were struggling to save lives every day, the lack of healthcare workers and burnout of the existing ones posed to be a greater threat. 
In the midst of such chaos, a true technological revolution emerged with answers to all such challenges. A bulletproof platform that not only tackled the existing gaps but also laid out strong future prospects for our healthcare industry. 
JOBIZO – The Hope For Our Healthcare System
Jobizo – the answer to all the healthcare staffing challenges is the revolution, India's healthcare industry has long been waiting for. The industry has long struggled due to workforce shortages and suffered setbacks while fulfilling any emergency requirements. 
With an aim to cater to the healthcare industry, Jobizo, India's first digitized flexible healthcare recruitment platform, was introduced. The need to address India's healthcare challenges is necessary to raise the standard of patient care.
Jobizo is a revolutionary idea, solving India's workforce crisis and helping healthcare facilities and professionals find each other on a common platform. It offers a concrete recruitment solution to healthcare institutions, allowing them to post a job requirement on the Jobizo platform and look for part-time workers to fulfill any emergency need. 
Additionally, healthcare professionals can find part-time employment with the help of the Jobizo app while enjoying the flexibility and freedom to choose a workplace. Let's understand how Jobizo is resolving the concerns surrounding India's healthcare system.
THE BESPOKE BENEFITS OF JOBIZO
Bringing Back The Inactive Healthcare Workers
According to a study by the WHO and the Public Health Foundation of India, over two million healthcare workers are presently inactive within the system. However, Jobizo aims to bridge this gap and is leaving no stone unturned in bringing back the talented professionals who have left due to many concerns, such as poor work-life balance, wage discrimination, and several others.
Jobizo provides freedom to the healthcare workers to work as per their time and discretion. This gives such nurses and doctors complete control over their careers and lives. A solid incentive for them to return back to the healthcare field.
Improving Patient Care
According to the government, India currently has 1.96 nurses per 1,000 people, whereas the doctor-population ratio is 1:834. Jobizo is working towards providing healthcare institutions with sufficient on-demand workers as per their needs while helping them deliver better patient care.
The quality bar of healthcare services improves when healthcare institutions have enough manpower to cater to the needs of patients, and Jobizo is fulfilling that dream. Jobizo assists and ensures healthcare facilities find skilled professionals capable of accomplishing any task with a single click. 
Elevating The Life Of Healthcare Workers
With Jobizo, healthcare professionals can find the job of their choice at the choice of their location without compromising on the work-life balance. In addition, Jobizo is uplifting the status of healthcare workers by allowing them to work on an on-demand basis.
Solving Recruitment Concerns For Healthcare Facilities
Healthcare recruitment is necessary, but it becomes even more crucial in times of an emergency, and Jobizo, with its well-established platform, is taking care of this.
With the help of Jobizo, institutions can find quality candidates per their needs, as unfortunately, many healthcare facilities crumble in times of crisis due to insufficient staff.
Increased Profitability For Healthcare Institutions
The profitability will see a jump when healthcare institutions will have a sufficient and talented workforce to cater to the needs of patients and deliver proper treatment.
The healthcare institutions no longer have to spend their money and time recruiting a full-time resource plus bear the training costs. The fixed costs can go drastically down while paving the way for better revenue.
Additionally, the excellent feedback and word of mouth will promote the services of healthcare institutions, which will eventually increase their revenue and can be used to improve the in-house facilities further.
Career Flexibility For Healthcare Professionals
Jobizo gives healthcare professionals the liberty to work anywhere as a locum and render services at the choice of their healthcare facility. Thus, giving them the career flexibility and freedom they deserve while providing ways to improve the health system in India.
Strengthening Transparency Between Healthcare Employees & Employers
Despite several pressing problems in India, Jobizo is showing India's healthcare sector a way forward by bridging the widening gap between healthcare employees and employers. From 100% pay transparency to the verified database of healthcare professionals, Jobizo is assisting healthcare professionals and institutions in a hassle-free manner.
If you are a healthcare institution (sign up on the web app) or a professional (download the app from Play Store/App Store) interested in knowing more about the flexible recruitment model that Jobizo offers, then it's time to connect with us today.
Time to usher in a new recruitment era with Jobizo.