The 21st century is technology-driven and will always be known as the Information age, and the coronavirus pandemic gave the world a much-needed unprecedented push toward technology.
India's healthcare sector has grown manifolds over the past few years and is expected to reach US$ 372 billion in 2022 from US$ 110 billion in 2016.
Medical technology in India is rapidly expanding. The Indian MedTech sector stood at US$ 10.36 billion in 2020 and is expected to reach US$ 50 billion between 2020–2025.
The role of technology in the health sector in India is vast and has raised the standard but is not limited to improving operational efficiency, addressing shortcomings, and raising the bar of patient care.
Staffing is a crucial part of the healthcare sector, and the amalgamation of technology in the healthcare recruitment sector has the potential to build a strong workforce for the country.
As per data till 2021, the healthcare sector remains one of India's largest employers, employing 4.7 million people, and has generated an estimated 2.7 million additional jobs between 2017-22, roughly 500,000 new jobs every year.
Despite a strong job outlook, India is looking at an acute shortage of qualified healthcare professionals to fill the vacancy. Additionally, a lot of registered staff are missing in action from the healthcare system.
With a growing staffing crisis, India needed a full-proof solution to solve this long-standing problem. Hence, Jobizo, India's first digitized flexible healthcare recruitment platform, was introduced.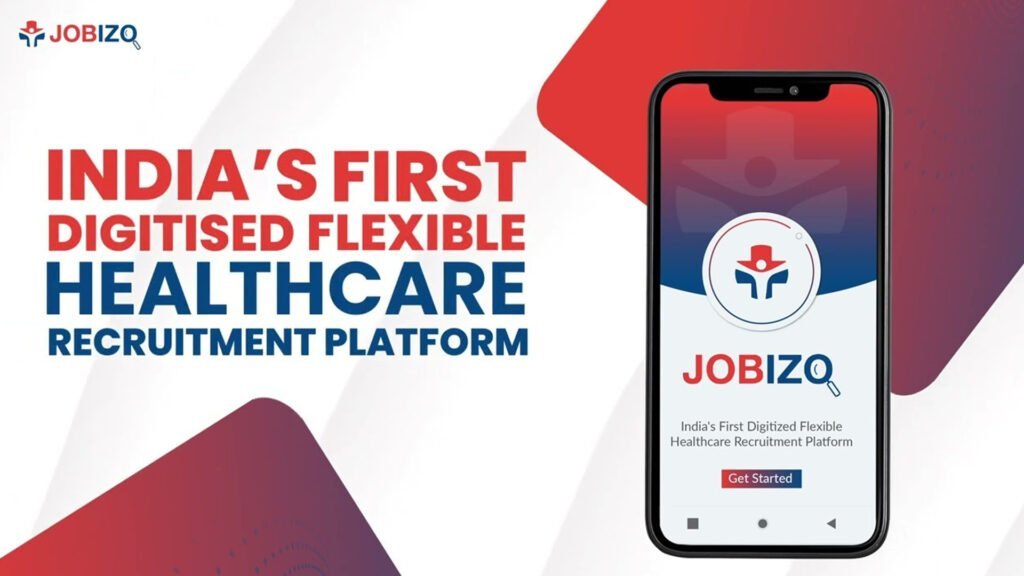 JOBIZO- The Technological Revolution The Indian Healthcare Industry Needed
Jobizo has advanced recruitment technology to address healthcare institutions' hassles of talent acquisition while helping professionals with the best-suited job offers nearby.
With the help of ultra-modern technology, Jobizo is bridging the gap between healthcare institutions and professionals.
Here's how Jobizo works for healthcare facilities and professionals:
How Jobizo Works For Employers
Log in to your employer dashboard
Post vacancies
Find professionals as per your need
Onboard a healthcare professional
How Jobizo Works For Healthcare Professionals
Download the Jobizo app from Google Play Store
Signup and create your profile on Jobizo 
Upload your certificates, get verified
Browse nearby vacancies & apply for potential locum jobs 
Crack the virtual interview and start working
Get paid post-job completion
Jobizo: New Age Tech-Friendly Solution For The Healthcare Industry
Until now, Jobizo has achieved more than 53,000 additional patient care hours and continues building an efficient healthcare delivery system while bridging the gap between healthcare institutions and professionals.
Jobizo was a long-awaited change the healthcare industry needed. The next-gen tech-powered healthcare recruitment platform, Jobizo, is a revolutionary idea giving the healthcare sector a much-needed boost.
Let's dig deeper and understand how Jobizo assists healthcare facilities and professionals across India with its specialized offerings.
AI-Powered Candidate Sourcing
Jobizo provides healthcare employers with high-quality candidates having relevant skills and expertise. The artificial intelligence-driven Jobizo platform helps healthcare institutions in talent sourcing, eventually giving them access to the verified database of a diverse workforce. Healthcare institutions can post jobs and discover professionals for their daily, weekly, monthly, and recurring hiring needs with the real-time employer dashboard.
Pre-Verified Credentials
Having pre-verified candidates is necessary and becomes even more critical in times of emergency, and Jobizo is solving this major hassle for employers. Hence, the advanced technology used in Jobizo automatically carries out background checks on professionals.
GPS-Enabled Attendance System
The advanced machine learning module of Jobizo has enabled employers to track healthcare professionals' attendance online in a hassle-free manner. The GPS-enabled system allows healthcare professionals to check in and check out of their jobs in no time.
Virtual Interviews
Jobizo empowers healthcare institutions to interview candidates virtually, allowing them to evaluate the professional. On the other hand, Jobizo gives professionals the freedom to be part of the interview process from anywhere.
As per a 2021 LinkedIn study, 70% of talented professionals consider virtual hiring in healthcare as a new way forward, whereas 81% of professionals believe virtual recruitment will continue post-pandemic.
Faster Recruitment
Healthcare is fast-paced and busy and often requires healthcare institutions to hire expert doctors and nurses urgently. And that's where Jobizo has come as a relief as it has incorporated the latest recruitment technologies to make the process seamless, faster, and efficient.
Precise Recommendation
The advanced automated technology-driven Jobizo platform recommends trained and verified professionals to healthcare institutions as per profile and availability. The Jobizo app caters to the needs of professionals and shows nearby matching locum jobs to professionals as per their expertise.
Real-Time Jobs
Healthcare professionals can easily apply for jobs on the Jobizo app, check its real-time status, find upcoming locum jobs according to their skills, and receive personalized jobs from preferred hospitals with location-based push notifications.
Training Programs For Professionals
Apart from looking for a job through the app, healthcare professionals also get to access discounted cloud-based training programs for career advancement.
100% Payment Transparency
Jobizo app comes with 100% payment transparency assurance for healthcare professionals. It gives them complete freedom to apply for the on-demand jobs as per their expertise and the pay offered by employers. Further, healthcare professionals receive compensation post their job completion and check their total earnings with every detail regarding the payment reflected on the Jobizo app.
Conclusion
Jobizo is a long-awaited new-age recruitment platform for the healthcare industry, a technological revolution that is going to shape the future of healthcare in India.
Sign up with us and know how Jobizo can help your healthcare institution get started and fulfill workforce requirements, even in emergencies.
Are you looking to strike a balance between your career and personal life while earning reasonable compensation? Then it's time you take a step forward, download the Jobizo app, and fly high in your work life.